1. Open Outlook Express.

2. Click on the Tools menu.

3. Select Accounts from the drop-down menu.

4. Click on the Mail tab.

5. Click on the Add button, then click on Mail.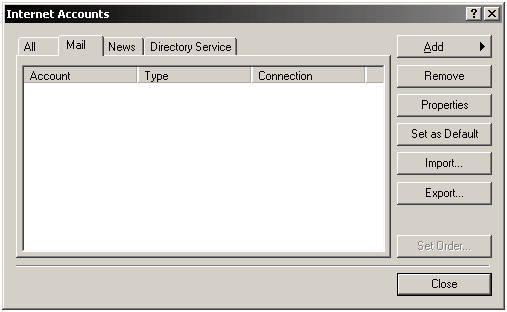 6. The Internet Connection Wizard will begin. Enter your name as you
would like it to appear. Click Next




7. Enter your E-mail Address. Click Next






8. Enter your E-mail Server Names. Replace "mail.yourdomain.com" with your domain name. Click Next




9. Enter your e-mail account information. This information was assigned when you setup the e-mail address in your Control Panel. The Account Name is your full email address (i.e. webmaster@example.com)
Click Next to proceed.




10. Click Finish to end the wizard.

11. Return to the Internet Accounts window. Click on the Tools menu and Select Accounts from the drop-down menu. You will see the new account . Highlight it and click on Properties.

12. In the Internet Accounts dialog box. Double click on the account that you just created. Click on the Servers tab.

13. Check the box next to "My server requires authentication."

16. Click the "Apply" button. Click Ok